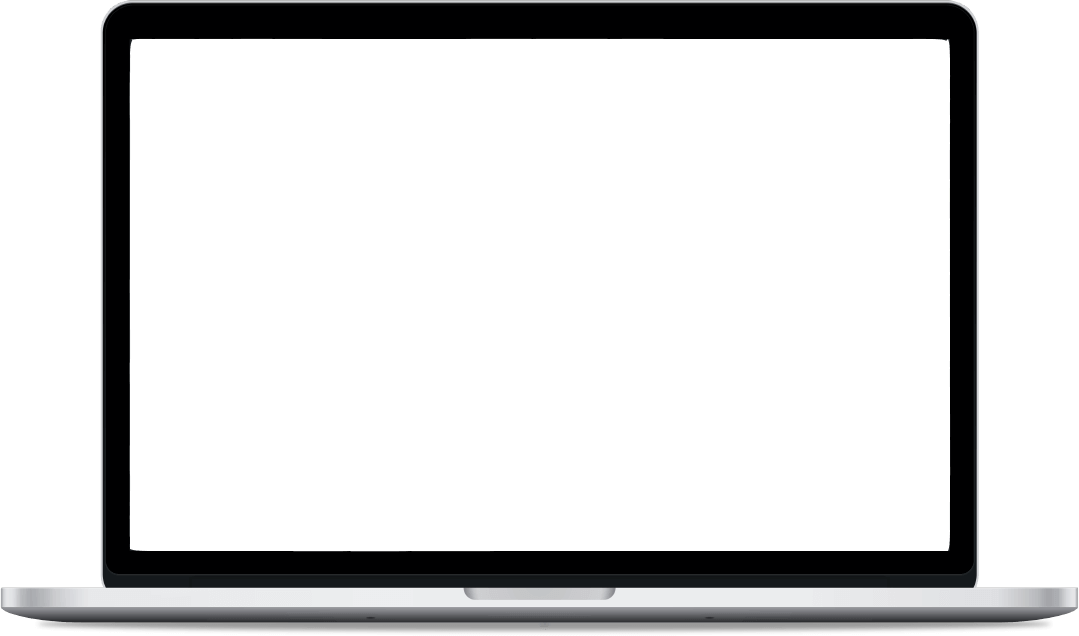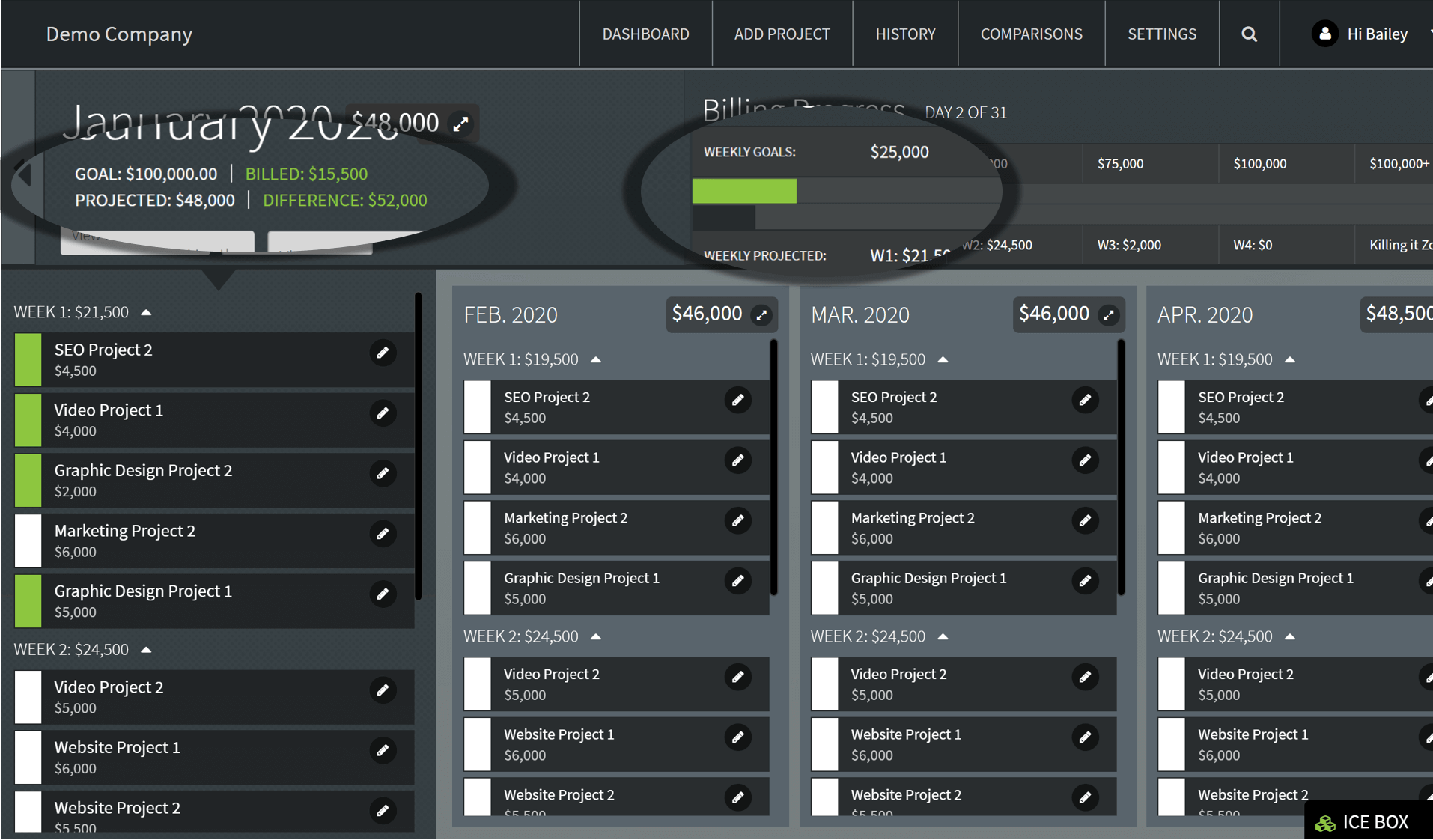 Do I need to get more projects done this quarter to meet my goal? (Or pay my rent?)
The Dashboard is your crystal ball.
Your monthly goal is always clearly visible at the top of your Dashboard.
Your difference from your monthly goal is calculated automatically.
You'll have the peace of mind of knowing exactly where you stand at any time of the month.
Am I in over my head?
FuelGauge helps you determine when to wave the white flag and get some help.
If you're looking at your FuelGauge Dashboard and you see a huge spike in anticipated revenue a few months down the line, that's awesome… it means your business is doing great. It also means (unless you've figured out a way to clone yourself, or your best employee) that you're going to need some help.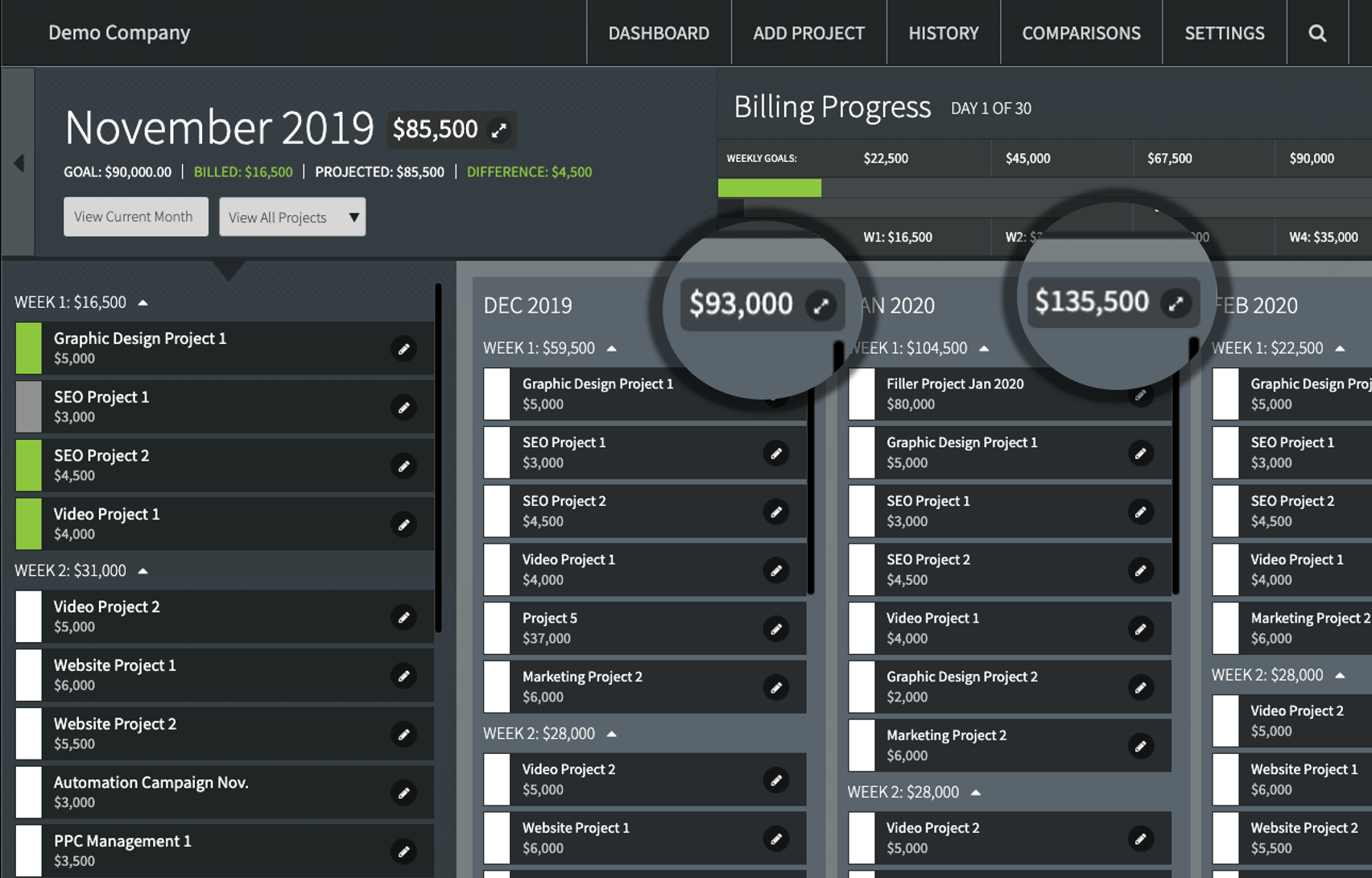 See what's coming down the pike so you can make educated project capacity planning decisions.

Get a headstart on hiring and training new employees.

Make decisions about outsourcing in order to keep the promises you've made to your customers.
Am I prepared for slow times?
FuelGauge helps you plan for seasonal highs and lows.
If your business is seasonal, you probably feel like a squirrel gathering nuts at the end of your busy season every year. How do you know if you have enough stashed away?
Use the History feature to see what your revenue and expenses were last year.

Make decisions with confidence about whether you need to stash more away or if you're ready for the slow down. (And maybe even sneak in a vacation!)

Look to the future and start planning staffing for the busy season that's just around the corner!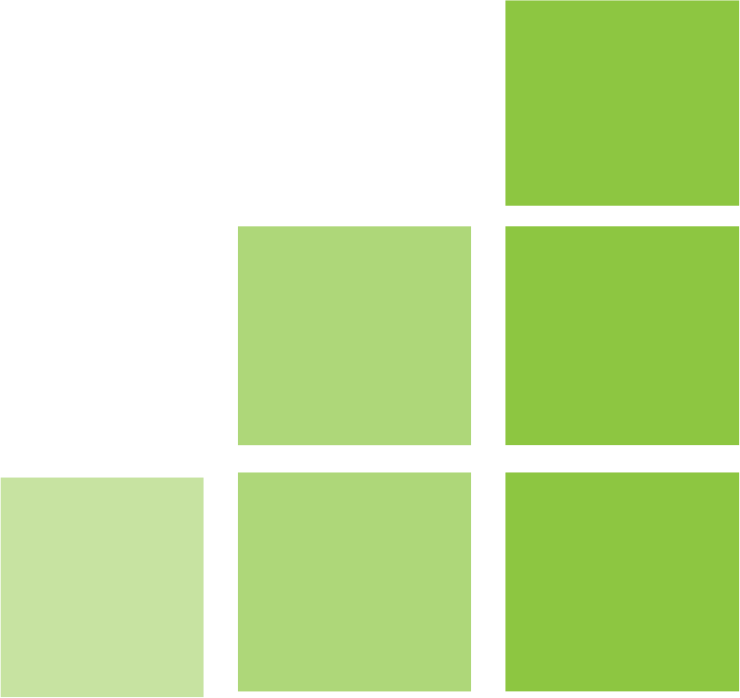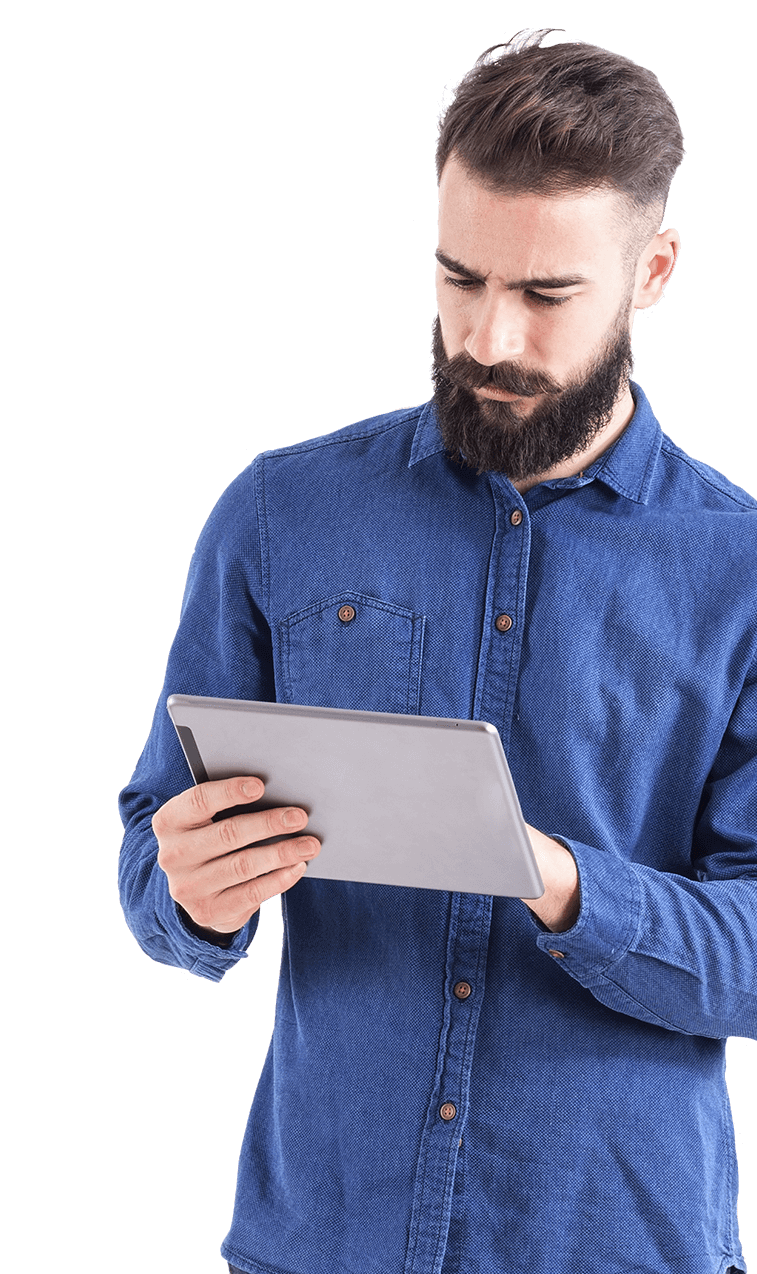 Where am I winning?
FuelGauge helps you decide where to focus your business growth efforts.
It's great to be diversified. However, it's also great to work smarter and not harder. That kind of magic happens with smart small business planning. So you need to know which project categories are generating the most revenue and focus your energy on getting more projects just like them.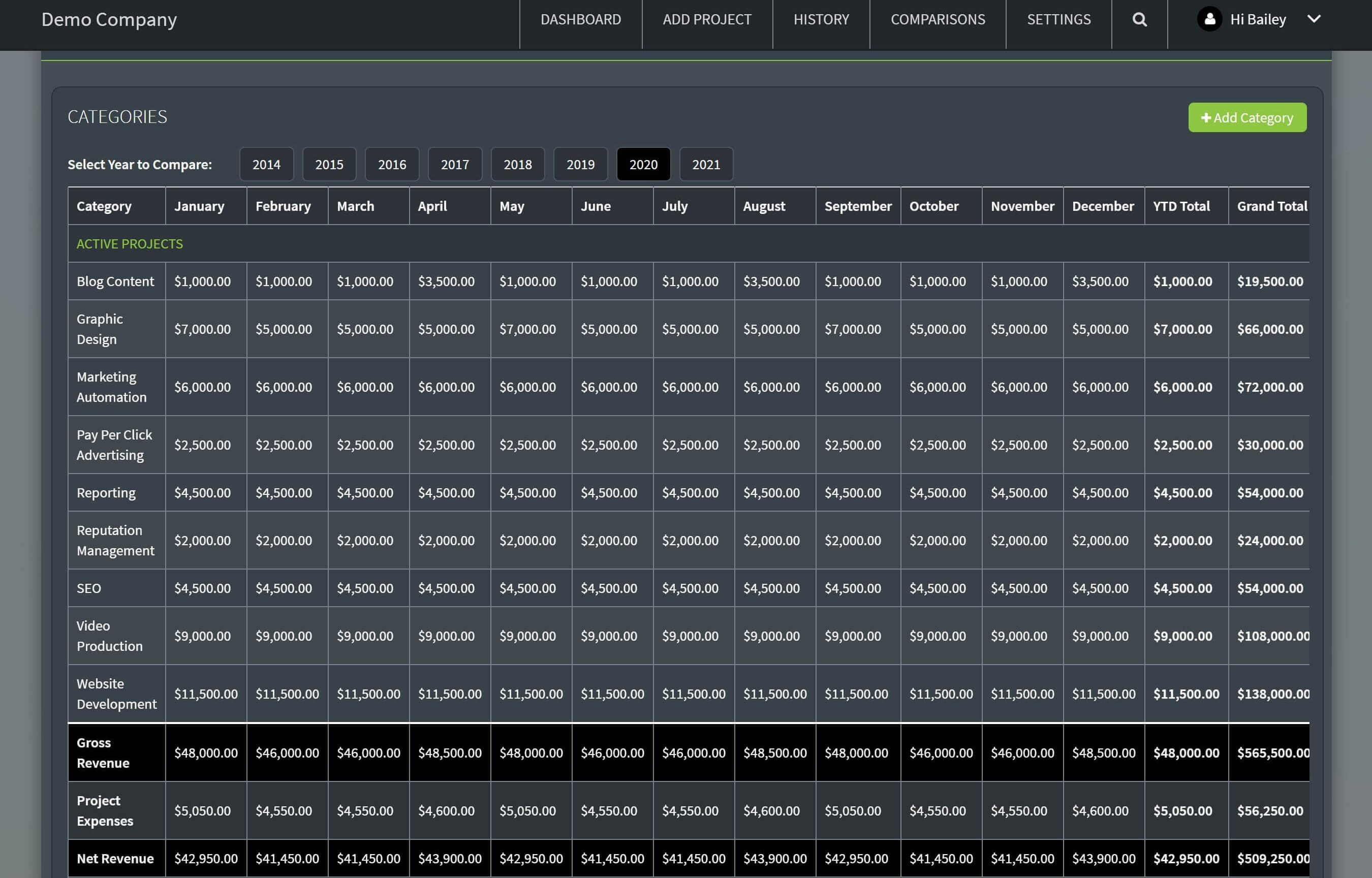 Use the Category Comparisons table to shine a light on which categories of your business yield the highest percentage revenue.

Analyze this information to see what areas you're winning in.

Zero in on the smartest way to grow your business revenues.
Is it time to sweeten the pot?
Analyze your rep data and decide if you need to increase incentives.
If you have sales reps pounding the pavement to bring in work, you need to ensure they're properly incentivized to hit home runs every time they go to bat. focus your energy on getting more projects just like them.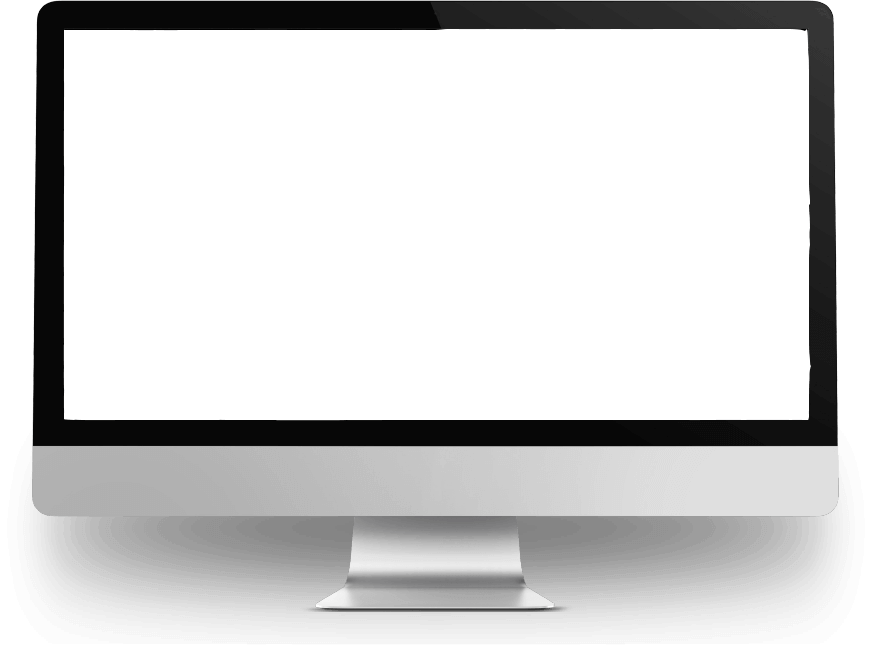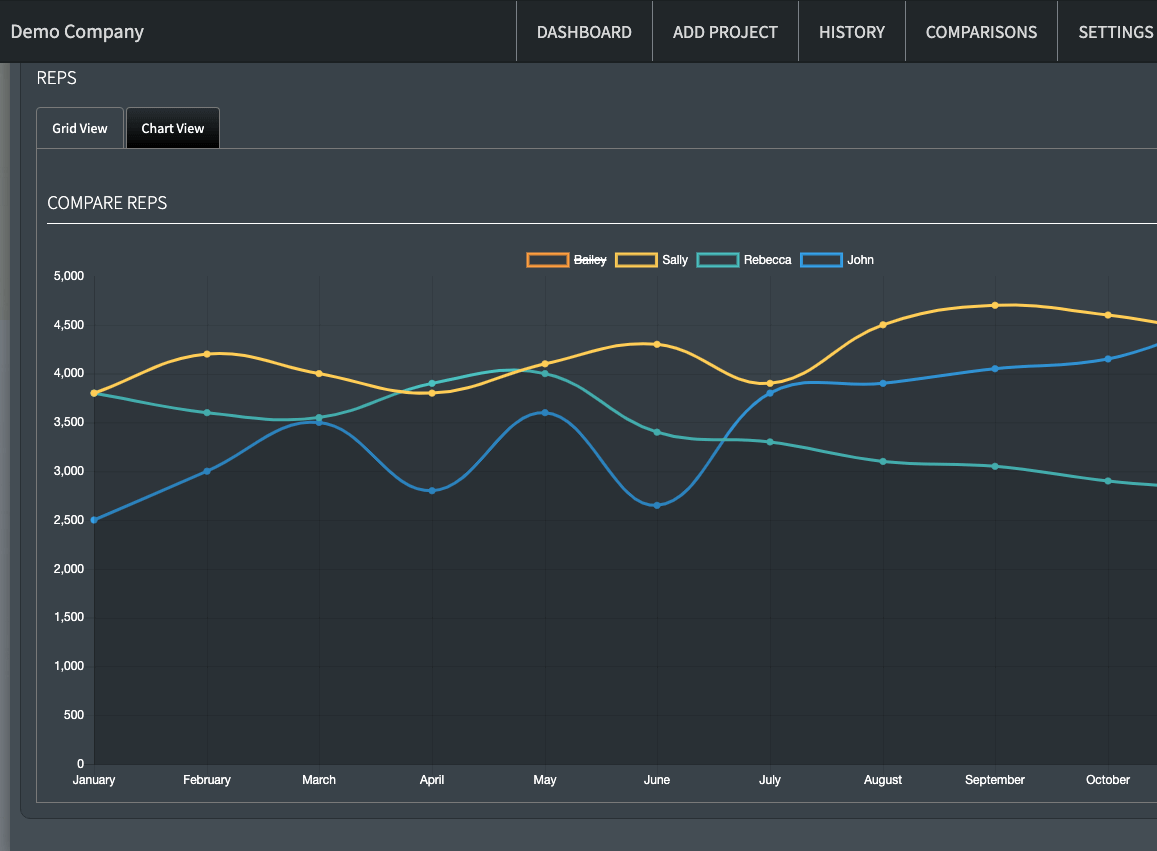 Use the Comparisons feature to see in a graph or a table which reps are killing it.
Analyze this data to understand how to best incentivize your reps and/or make the best staffing decisions.
Feel confident that you're maximizing your reps' efforts AND your ROI.
Am I ready to grow?
FuelGauge helps you look to the future to decide with confidence.
You have your eye on a cool new piece of equipment. Or an office space downtown. Or an idea for a new niche in the market your business could expand into. Are you ready? Now is not the time for cockeyed optimism or crossing your fingers. You need to KNOW if now is the right time.
Use the Goals feature in FuelGauge to create if/then scenarios.

Plan for the future with confidence through financial forecasting.

Grow fearlessly, knowing you're making the best possible business decisions.